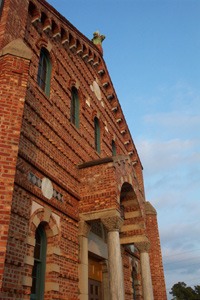 While we are a community that focuses on the exciting future ahead of us, we also humbly acknowledge that the ministries we accomplish today at Kings Highway Christian Church would not be possible but for the work and sacrifice of those who came before us. As the scriptures say, "we are surrounded by so great a cloud of witnesses" (Hebrews 12:1). Kings Highway Christian Church began on May 20, 1923. As with many new churches Kings Highway's beginning was made possible through the work and commitment of the members of its "parent" church, Central Christian in Shreveport.
Since its earliest days Kings Highway Christian Church has been located at the corner of Kings Highway and Line Avenue. In 1925, only two years after the church was founded, the magnificent sanctuary was completed. Since that time this sanctuary has been the sight of hundreds of weddings and funerals, and thousands of worship services. It is one of only two protestant churches in Shreveport listed in the National Register of Historic Places.
Over the years the church's facilities have grown as a result of 4 ambitious building campaigns, but the buildings are only the shell of the church and while the history of our facilities are simple to report, there is no way to quickly sum up the history of the church as a community. Suffice it to say that as with any other congregation we have nurtured children and seen them grow into adulthood. We have helped many young people through their exciting and difficult teenage years. On countless occasions we have cared for families during some of the best and worst moments of their lives. We have sought to inspire all who enter to recognize the love that God is offering us, and to grow in relationship with Him by listening for and responding to His call for our lives. And together we have tried as a community to make our neighborhood and city the best that they can be.
As friends and members of Kings Highway Christian Church we are a part of something much greater than ourselves: a line of serving and worshiping Christians stretching back many years.